BEST-IN-CLASS CLINICAL EVIDENCE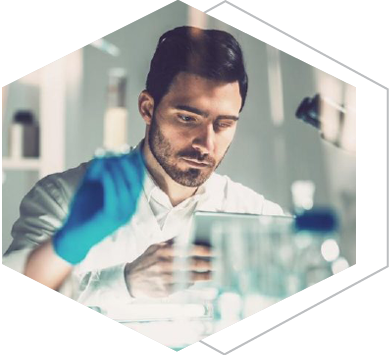 LEVEL 1 CLINICAL EVIDENCE
MIMEDX Has the Largest Body of Level I Evidence Among Placental Allograft Products
Published Studies
N
MIMEDX Allograft Outcomes Observed

DFU RCT1 EPIFIX vs. SOC

EPIFIX: 13
SOC: 12

Complete wound closure:
92% at 6 weeks

DFU RCT Cross over2 EPIFIX vs. SOC

EPIFIX: 11
SOC: 11

Complete wound closure: 91% at 12 weeks
Mean percentage reduction in wound size versus baseline at 6 weeks:
EPIFIX: 93.9% vs. SOC: -10.6%

DFU RCT Long Term Follow Up3 EPIFIX

EPIFIX: 18

94% remained closed 9-12 months after initial closure

DFU RCT4 EPIFIX Weekly vs. Biweekly Application

EPIFIX:
Weekly: 20
Biweekly: 20

Complete wound closure: 92.5% closed at 12 weeks

Mean time to closure:
– Weekly applications: 2.4 weeks
– Biweekly applications: 4.1 weeks

DFU RCT5,6 EPIFIX vs. Apligraf vs. SOC

EPIFIX: 32
Apligraf: 33
SOC: 35

Complete wound closure:
85% at 4 weeks
95% at 6 weeks
97% at 12 weeks

DFU Multicenter RCT7 EPICORD vs. SOC

EPICORD: 86
SOC: 48

Complete wound closure (Per Protocol): 81% at 12 weeks

VLU RCT Surrogate Marker8 EPIFIX vs. SOC

EPIFIX: 53
SOC: 31

62% of patients achieved >40% wound closure at 4 weeks

VLU Multicenter RCT9,10 EPIFIX vs. SOC

EPIFIX: 52
SOC: 57

Complete wound closure (Per Protocol): 60% at 12 weeks, 71% at 16 weeks
Statistically significant results in randomized controlled trials
Head-to-head study results demonstrate superior clinical outcomes & substantially lower cost-to-closure compared to Apligraf® 5,6
CLINICAL EVIDENCE 3rd PARTY VALIDATION
The Quality of MIMEDX RCTs Was Evaluated & Validated by the Agency of Healthcare Research and Quality11
In a rigorous evaluation for study design, only 12 out of 245 studies from 76 skin substitute manufacturers were found to have low risk-of-bias. Five of the 12 studies were performed by MIMEDX, ALL of which demonstrated improved closure rates.11
FINDINGS:
The assessment included a risk-of-bias tool used to address study design and conduct that influence the potential for bias in individual studies. 12 of the 22 Randomized Controlled Trials (RCTs) were categorized as low risk-of-bias for complete wound healing.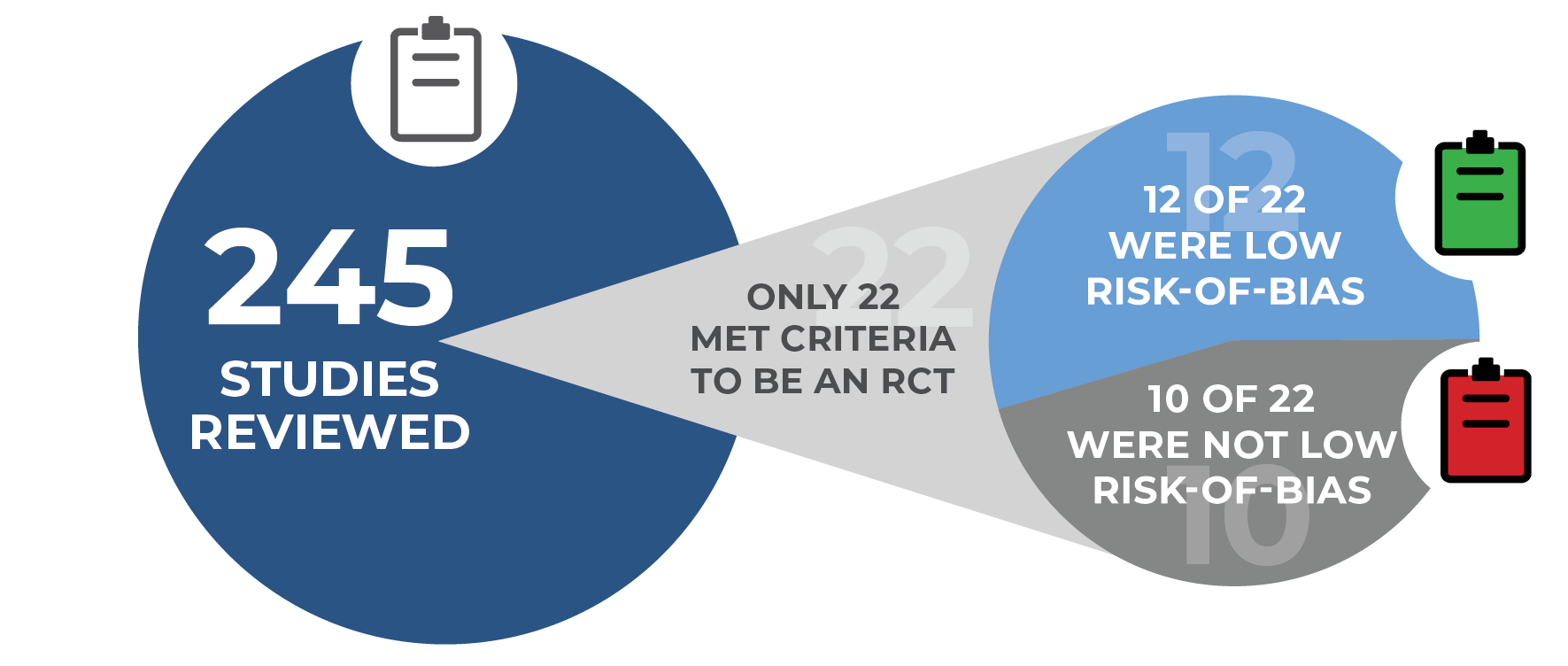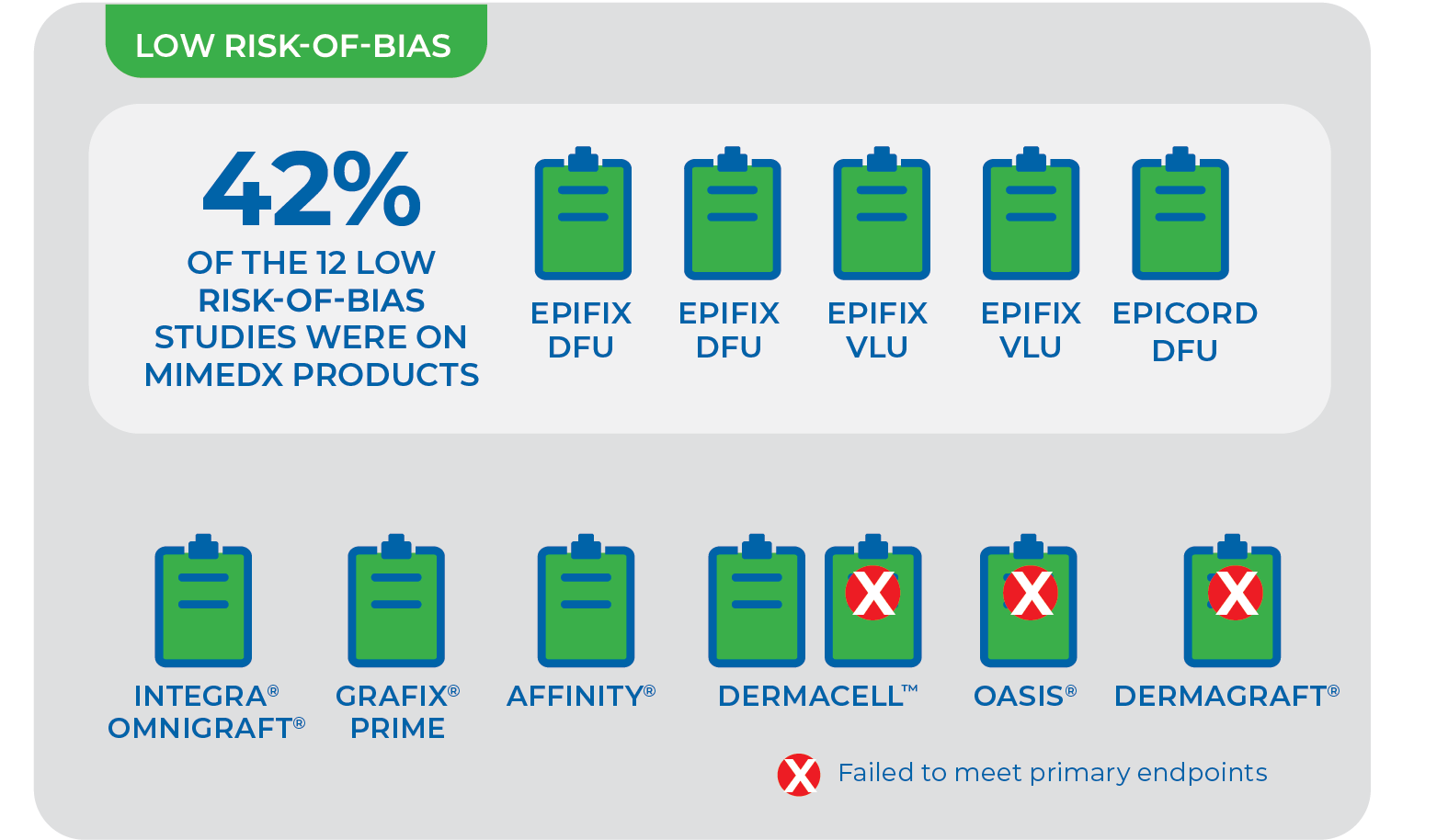 NOTE: Results from one skin substitute cannot be extrapolated to similar products "due to differences in processing, composition, and other preservation methods." Given that promotion for skin substitutes is based on proprietary processing methods, "each of these products needs to be examined in a properly designed and conducted clinical trial."11
CLINICAL EVIDENCE 3rd PARTY VALIDATION
Medicare Data Analysis Validating Significant Outcomes Seen In Published EPIFIX Randomized Controlled Trials
A retrospective cohort analysis of Medicare patients (2015-2019) was conducted to compare the cost-effectiveness and budget impact of using standard of care to Advanced Treatments when following Parameters For Use (PFU) in treating Lower Extremity Diabetic Ulcers (LEDUs).13
IMPACTS OF FOLLOWING PARAMETERS FOR USE (PFU)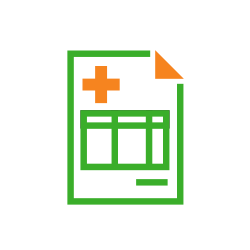 Following PFU includes initiating skin substitutes within 30–45 days of first diagnosis and re-applying grafts every 7-14 days.12, 13
Following PFU improved outcomes for all Advanced Treatments including the most utlized allograft, EPIFIX.12, 13
When compared with standard of care, EPIFIX demonstrates savings in cost and utilization.13

Lower rates of amputation
Less utilization of healthcare resources
On average $3,670 cost savings per patient vs. standard care
EPIFIX OFFERS A MORE COST EFFECTIVE TREATMENT
Other findings from this analysis include:
Patients treated with EPIFIX gained 0.013 quality adjusted life years (QALYs) in the first year
At one year from initiation of treatment, EPIFIX realized a Net Monetary Benefit (NMB) of $5,004 at a $100K Willingness To Pay (WTP) threshold
References
1. Zelen CM, et al. Int Wound J. 2013;10(5):502-507. 2. Zelen CM. J Wound Care. 2013;22(7):347-351. 3. Zelen CM, et al. Wound Medicine.2014;4:1-4. 4. Zelen CM, et al. Int Wound J. 2014;11(2):122-128. 5. Zelen CM, et al. Int Wound J. 2015;12(6):724-732. 6. Zelen CM, et al. Int Wound J. 2016;13(2):272-282. 7. Tettelbach W,et al. Int Wound J. 2019;16(1):122-130. 8. Serena TE, et al. Wound Repair Regen. 2014;22(6):688-693. 9. Bianchi C, et al. Int Wound J. 2018;15(1):114-122. 10. Bianchi C, et al. Int Wound J. 2019;16(3):761-767. 11. Snyder DL, et al. Agency for Healthcare Research and Quality. https://www.cms.gov/Medicare/Coverage/DeterminationProcess/downloads/id109TA.pdf. Published February 2020. Accessed July 10, 2023. 12. Armstrong DG, et al. J Wound Care. 2021;30(Sup7):S5-S16. 13. Tettelbach WH, et al. J Wound Care. 2022;31(Sup2):S10-S31.
*per patient over 12 months when following parameters for use