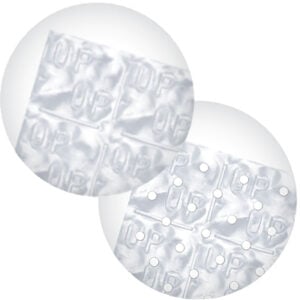 AMNIOFIX® is a tissue allograft composed of dehydrated human amnion/chorion membrane (DHACM). It is available in sheet, fenestrated, and wrap configurations in a variety of sizes to reduce wastage.
AMNIOFIX Product Benefits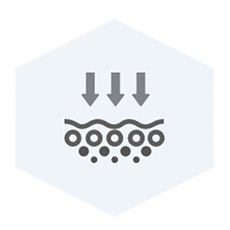 AMNIOFIX provides a protective barrier that supports the healing cascade and protects the wound bed to aid in the development of granulation tissue in acute and chronic closures.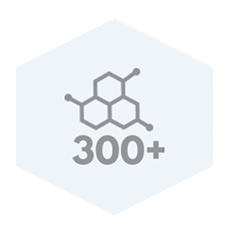 AMNIOFIX provides a biocompatible human extracellular matrix and contains 300+ regulatory proteins.1-3
Human-derived
Multiple configurations available for varying demands depending on wound or surgical application desired
Provides a human biocompatible extracellular matrix
Simple storage and application
Compatible with negative pressure wound therapy (NPWT) and hyperbaric oxygen therapy (HBOT)
AMNIOFIX has been used across a wide range of surgical applications including:
Debridement
Surgical wounds
Dehiscence repair
Tendon & ligament repair
Myomectomies
Bunionectomies
Rotator cuff repair
Posterior Lumbar Interbody Fusion (PLIF)
Total knee & shoulder arthroplasty
Limb salvage
Amputations
Pilonidal cysts
Port sites
Other cases are possible
AMNIOFIX Processing & Details
AMNIOFIX is processed using PURION, a unique patented method for placental-based allografts that is in accordance with the American Association of Tissue Banks (AATB) standards. The product is derived from placental tissue donated by healthy, consenting mothers who have given live Caesarean section birth in the US.
MIMEDX's patented PURION process preserves extracellular matrix components, including regulatory factors and other matrix-associated proteins. For an additional level of safety, the product is terminally sterilized.
Koob TJ, Lim JJ, Massee M, Zabek N, Denozière G. Properties of dehydrated human amnion/chorion composite grafts: Implications for wound repair and soft tissue regeneration. J Biomed Mater Res B Appl Biomater. 2014;102(6):1353-1362.
Lei J, Priddy LB, Lim JJ, Massee M, Koob TJ. Identification of Extracellular Matrix Components and Biological Factors in Micronized Dehydrated Human Amnion/Chorion Membrane. Adv Wound Care (New Rochelle). 2017;6(2):43-53.

MIMEDX Internal Report. MM-RD-00086, Proteome Characterization of PURION Processed Dehydrated Human Amnion Chorion Membrane (dHACM) and PURION PLUS Processed Dehydrated Human Umbilical Cord (dHUC) Allografts.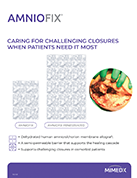 We improve people's health and lives through innovation that delivers solutions for patients and caregivers. With a wide variety of allograft configurations, clinicians can choose the product that best meets their treatment objectives.
Healthcare Professionals
MIMEDX offers unique value to clinicians across sites of care. With a broad support system, we offer services to support needs relating to reimbursement and coverage, product access and cost containment, education, patient information, and clinical applications.
Click the toggle below to view our product solutions by: